A Modern Approach to a Better
Data Experience
How you can use a decentralized data mesh to integrate multimodal life sciences data
Who will benefit from this webinar:
Researchers, biologists, bioinformaticians, and data scientists working in biomarker discovery.
---
How quickly are you asking questions of your data?
How quickly can you get the answers?
How quickly can you integrate distributed data?
How quickly can you collaborate?
And how easy is it to reproduce your results and the results of others?
All of these problems can be solved when you can interact with your decentralized data using a centralized data analysis site.
With analysis apps, you can ask and answer your own questions 1000x faster.
With a mesh-architecture and a smart API, you can run analyses on your data in any location.
With a centralized data analysis site, you can run distributed queries across multiple datasets and save all the results in a single place. Having one place for analysis results enables one-click collaboration.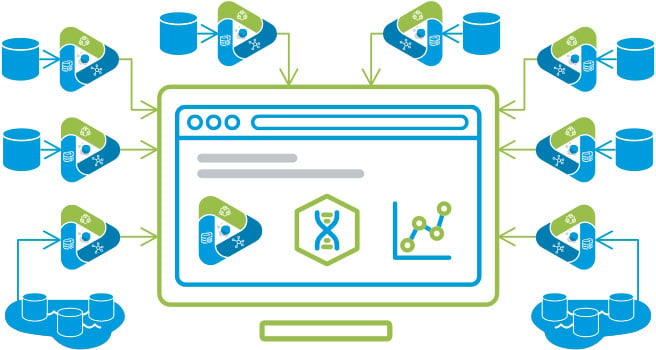 Quick recap of the webinar:
Jen Underwood provided suggestions on how you can achieve analytical nirvana.
Mark Mooney talked about how the last mile of data analysis is broken and how you can fix it using the data mesh architecture.
Jesse Paquette gave a live demo on how you can use Tag.bio platform to analyze multimodal omics data:

For the life sciences area, he demoed how you can run analyses on the Pan Cancer samples and identify gene mutations that enhance survival in glioblastoma. He also used UMAP to single out a cancer type and find over- and under- expressed genes. He then looked at a single-cell oncology dataset and identified genes that were preferentially expressed in T cells using the UMAP algorithm to cluster single-cells rather than samples.
Switching to the healthcare side, he demoed how you can run analysis to compare one hospital against a background of all hospitals to identify the uniqueness of the selected hospital, such as how much the selected hospital is overspending compared to the rest of the hospitals.
Ready to try a new data analysis experience that will help you take your company to the next level?
Our speakers:
Jen Underwood
Founder & Principal Consultant, Analytics and Machine Learning at Impact Analytix, LLC
Jesse Paquette
Co-Founder & Chief Science Officer at Tag.bio
Mark Mooney, Ph.D.
VP of Customer at Tag.bio
---
Sponsored by:
By clicking Watch Webinar Now, you agree to our Terms of Service and Privacy Policy.