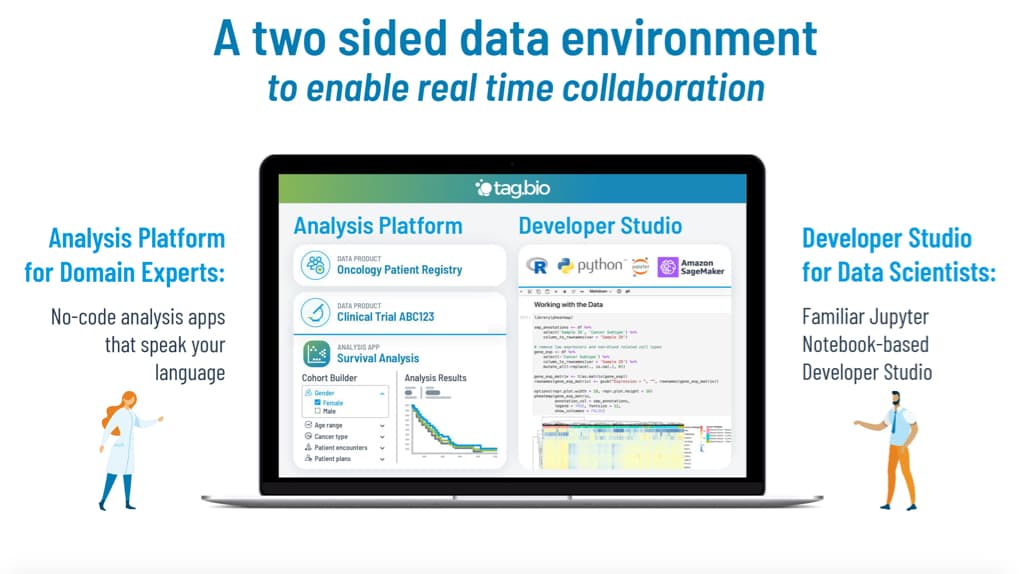 About Tag.bio:
Tag.bio is a data analytics platform for healthcare and life sciences. It combines diverse data sets, smart APIs, and statistical and machine learning algorithms into decentralized data products within a data mesh architecture. Researchers can use its point and click system to instantly perform analysis and share versioned, reproducible results.
About Tag.bio Platform:
Tag.bio platform combines a dynamic cohort builder with analysis protocols and applications to match complex analysis workflows. Applications within data products are fully customizable via R and Python plugins, and the platform supports notebook-based developer environments with individual workspaces.
Join us for a talk/demo session on the Tag.bio data science platform and learn how major pharma industries and university health systems are using this technology to promote value-based, precision healthcare, find cures for disease, and promote collaboration (without explicitly moving data around). The talk also outlines Tag.bio secure data exchange features for real world evidence datasets, privacy-centric data products (confidential computing) as well as integration with AWS services such as Amazon HealthLake and SageMaker.
__________________________
AWS Tech Talks for NIH are hosted by the NIH STRIDES Initiative.

https://cloud.nih.gov